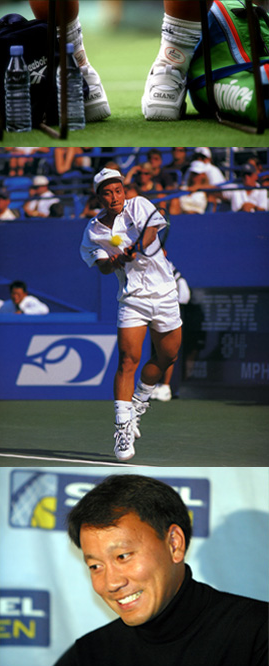 Turning pro at just 15 years of age, Michael Chang set numerous "youngest player records." In 1987, he was the youngest player to win a main draw match at the U.S. Open and the youngest to reach a Tour semifinal. Becoming the youngest French Open / Grand Slam Champion ever in 1989, he then became the youngest to rank in the Top 5. Chang ended an American drought at the French Open, when he became the first American male to win the tournament since 1955. In 1991 he reached the quarterfinals or better in 13 tournaments. On the court, Michael's real strength is his return game. Chang was considered one of the fastest players on the circuit, possessing an all-court game.
Full name: Michael Te Pei Chang
Chinese Name: Birth date: February 22, 1972
Turned pro: 1988
Birthplace: Hoboken, New Jersey, USA
Height: 5'9″ (1.75m)
Weight: 160 (75.6kg)
Plays: Right-handed
Highest singles ranking: 2 (September 9, 1996)
Highest doubles ranking: 199 (April 19, 1993)
Singles titles: 34
Fastest serve: 130 mph (Memphis)
Retired: 2003
US Open Grand Slam Record Titles: Australian Open – Finals (1996),French Open – Winner (1989), French Open – Finals (1995), Wimbledon – Quarterfinals (1994), US Open – Finals (1996)
Tournament Titles
2000 Los Angeles
1998 Boston, Shanghai
1997 Memphis, Indian Wells, Hong Kong, Orlando, Washington
1996 Indian Wells, Washington, Los Angeles
1995 Hong Kong, Atlanta, Tokyo-Indoor, Beijing
1994 Jakarta, Philadelphia, Hong Kong, Atlanta, Cincinnati, Beijing
1993 Jakarta, Osaka, Cincinnati, Kuala Lumpur, Beijing
1992 San Francisco, Indian Wells, Key Biscayne
1991 Birmingham
1990 Toronto
1989 French Open, London-Indoor
1988 San Francisco
Michael's Favorites
Favorite color: Blue
Favorite food: Chinese – of course!
Favorite book(s): Bible, Christian books that tell of life experiences or stories
Favorite sport (after tennis): Golf and fishing
Favorite tournament: I have too many favorites…all for different reasons
Most memorable tournament/match: Round of 16 with Ivan Lendl at the 1989 French Open, and the night match with John McEnroe at the US Open that didn't finish until around 1:30am
Frequently Asked Questions (FAQs)
What do you with your time, now that you are retired?
A) I continue to be very busy not only attending Talbot School of Theology, but also speaking to various people groups, universities, businesses, churches, conferences, etc. The Chang Family Foundation also occupies much of my time, especially our Christian Sports League (CSL) ministry.
Q) You have often been compared to David, from the Bible. Is it true that he is your favorite character from the Bible?
A) I can't say that I really have a favorite Bible character, but I do enjoy learning from and reading about so many of them. Depending on where I am in life, I can always find a character to relate to since the Bible covers every aspect of life. And because the Bible is God's blueprint for how we are to live, I know that I can trust it with complete confidence.
Tennis Links: Australian Open French Open Wimbledon US Open
To request Michael's autograph, please send your own picture of Michael and a self addressed stamped envelope to:
The Chang Family Foundation 28562 Oso Pkwy, D343 Rancho Santa Margarita, CA 92688 USA